Expectation! 2023 is the year of Expectation for Crossroads Community Church! On January 8, we want to begin our year joining together in prayer, expecting God to do BIG things in 2023! Join our Teach Us to Pray Reading Plan, follow our meditation guide on our website and app using your own journal or pick one up at guest services, and also pick up your bookmark at guest services. We will finish our 23 Days of Prayer with a Worship & Prayer night on January 29 at 5:30pm. God has big plans! We can't wait to see what HE WILL DO! Let's pray in great expectation!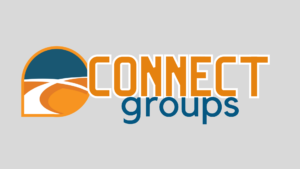 It's a New Year and there's no better time to connect or reconnect to a group! Looking to connect to a group at Crossroads? Would you like to start a group? Have questions about groups or just want more information? Meet us after both services in the Worship Center to make connections or to find out information about how to start your own group! For more contact [email protected]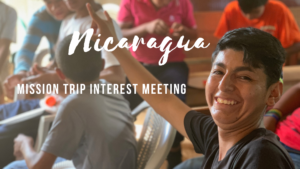 We are headed back to Nicaragua this summer and we would love to have you come with us! Save the dates June 24-July 1st. Come hear more at our Interest Meeting Sunday January 29th following the 11:00 am service!
Come worship with us!
On January 29th, we will have food trucks at Crossroads from 5:30-6:30pm. Then at 7:00pm we will worship and pray together with Ryan Kondo.
God has big plans! We can't wait to see what HE WILL DO! Let's pray in great expectation!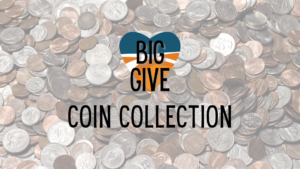 It's 2023! And it's THAT time again! We are kicking off our 2023 Big Give Initiative with a coin collection! Gather up your coins from your car, drawers, couch and piggy bank! Get everyone involved! Your kids! Your students! Your dog! Bring all your coins on February 5 to Crossroads to help us begin to raise $100,000 to bless our neighbors and Nicaragua in 2023! Every penny matters! So jump in!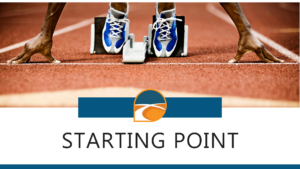 We are so glad you have been joining us for worship at Crossroads. Connecting is our mission here: Connecting with God, connecting with others, and connecting others with God. We would like to invite you to take the next step of attending our Starting Point Orientation. It is an opportunity to learn more about who we are, the vision and mission God has given us, and how you can get connected at Crossroads.
We will meet right after the 11:00am service on February 5th for lunch. Sign up at guest services or on our app and website under events. If you aren't able to meet in person, choose the virtual option when you sign up and we'd be glad to set up a zoom session when you are available.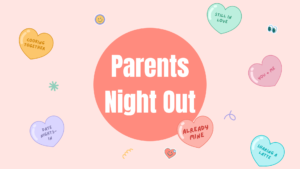 Calling all Crossroads parents! On February 11 from 4PM to 7PM is Parents Night Out. Enjoy a few hours without the kids, knowing they are having fun with crafts, games, movies, and food. Kids from birth to 5th grade are welcome. Space is limited and sign up by clicking the link below.
If you would like to serve at this event, email Sheri at [email protected]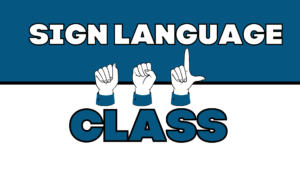 Have you ever wanted to learn sign language? Now is the time! Whether you are starting from scratch, want to refresh, or continue what you learned last semester, join us for a 6 week ASL (American Sign Language) class beginning February 21 at 6:30pm at Crossroads Community Church. There are limited spots available for this class so sign up now.
Women of Crossroads, are you ready to decompress and reconnect after the hussle and bussle of the holidays? Come join us Saturday, February 25 from 9:30-11 for coffee, or cocoa, great conversation and maybe even a few games! You're encouraged to bring a friend as we relax and reconnect! RSVP on the app or website by February 20th.
Our church playground is DEAD! It's BROKEN! It's FALLING APART and not safe for our kids and community. Wouldn't it be INCREDIBLE if we could replace it with a commercial grade playground that could be used by our kids at Crossroads AND be a place where our neighbors could come and play as well? We can be FOR our neighbors and FOR families at the same time. We are shooting to have this done by Spring 2023 and the cost is around $30,000. If we all come together and give, we can make this happen! If you'd like to donate, choose the dropdown "expansion fund" or make a notation on your gift, "expansion fund" to help us bless our families and neighbors.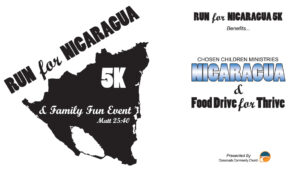 This is our 4th annual "Run for Nicaragua" Race! Since 2019 we've been able to raise over $37,000 to build homes for families in several Barrios in Nicaragua. Our goal in 2023 is to raise $20,000 to build homes in the Carlos Fonseca Barrio in Nicaragua. Each home costs $2,000. Can you believe that? A dry, safe home for a family in need for $2,000. Event funds also help Nicaraguan families with school supplies, furniture and more! To find out more visit: https://ccm.life. Join us and make a difference by simply running for Nicaragua in person or virtually.
This is a Family Fun Event with lots of great raffle prizes, refreshments and games for anyone in attendance. Raffle tickets will be sold for raffle prizes.
Rain or shine event! All participants are participating at their own risk
Race Date: May 13, 2023 (Timing and Results by Flat-Out Events Race Management)
Race events include 5K (competitively timed event), One Mile Fun Run (not a timed event) and Virtual 5K (no awards)