Every year God does some amazing things in the lives of His people. At Crossroads we hear of these things all the time, but we've realized that we should open up time and space for you to tell your story, for you to worship through song and testimony and thank God for all he has done. We believe God will move as His people tell of all He has done.
Join us for a Worship and Testimony Night October 8th at 6:30 pm
If you would like to share your story please sign up by clicking the link below.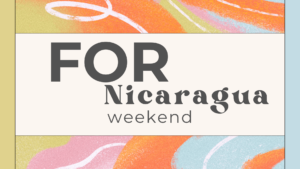 On October 15, our amazing Nicaraguan friend Abner Morales will be with us at Crossroads during our 9:30 and 11am services. Abner is on staff at CCM and is currently pastoring the Carlos Fonseca church that Crossroads has been partnering with in Nicaragua. Come hear what God is doing in Nicaragua and how you can make a difference in the lives of our family and friends in the Carlos Fonseca church. You don't want to miss this!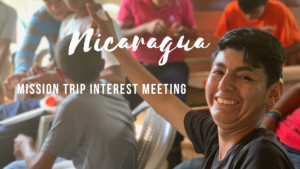 We are excited to announce our Nicaragua Mission Trip dates for 2024. On April 13-20, we will doing our first medical mission trip. If you are medical personnel or willing to learn and help on the spot, this trip is for you. On August 3-10, we will be doing a ministry mission trip like previous mission trips to Nicaragua. Fill out the mission trip application to start the process of applying for either trip and join us for our Nicaragua Mission Trip Interest Meeting on October 15 right after the 11am service.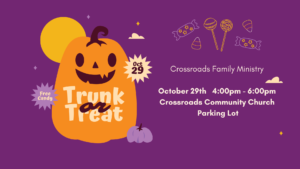 On October 29th from 4:00-6:00 PM, we will have our 4th annual TRUNK OR TREAT event. It will be tons of fun with lots of candy and games in a safe environment for our church and community. Invite all your neighbors, friends and family. We need your help Crossroads to make this night a big success. Sign up now to be there with a decorated trunk and a chance to win an amazing prize for the "Best Decorated Trunk." We will need volunteers the morning of for preparation and during the event.
Last, we will need lots of candy for this event so don't forget to grab some candy at the store and drop it off at Crossroads on Sunday mornings in October. Because of the big event on the 29th, we will not have KidMin in the morning as we prep and stage for the evening. SEE YOU THERE!
Men of Crossroads…we are excited to announce our upcoming Men's Retreat on November 10-11 right here at Crossroads Community Church.
Our retreat (or stay-treat) will focus on Jesus, Our Source for Abundant Life with speakers like Pastor Aaron, Pastor Paul, Bruce Strack and Mark West. There will be plenty of food, steaks the size of your head, activities, campfire, great connections and best of all…JESUS! We can't wait!!
Deadline to register on the App or Website is November 5 and listen to this…we had some very generous donors give to cover the retreat cost so that YOU will BE THERE so sign up today! That covers 3 meals, some activities cost, snacks, drinks and a t-shirt. You will need to bring money for your activity of choice on Saturday and one breakfast.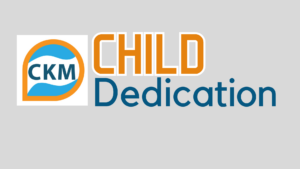 At Crossroads, we believe in partnering with parents, by combining the influence of home and the influence of church to make a greater impact on the next generation. Crossroads is having a Child Dedication on Sunday, November 12th. We are excited to join in this journey with you and see you have your child get dedicated. If you are interested in signing up your little one to be dedicated, click the link below.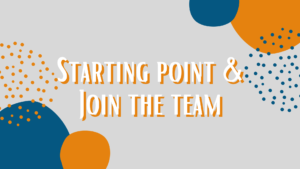 New to Crossroads? Get to know Crossroads at our Starting Point Lunch on November 12th right after the 11am service. Meet the staff, hear about our church, and find out ways that you can get connected.
Have you already been to Starting Point and you are ready to connect to Crossroads through membership? Then join us for our Join the Team Membership Lunch the same day following the 11am service. You will learn about what membership looks like at Crossroads.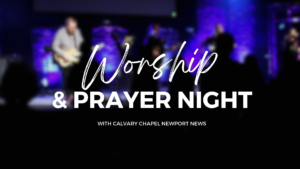 Join us on November 17th at 7:00 pm right here at Crossroads for a time of of Worship and Prayer with our friends from Calvary Chapel Newport News! Psalm 95:2 says "Let us come before him with thanksgiving and extol him with music and song." God is doing remarkable things through the larger body of Christ and we want to celebrate with an evening of prayer and thanksgiving! So, grab your family and friends, you won't want to miss this incredible night of worship!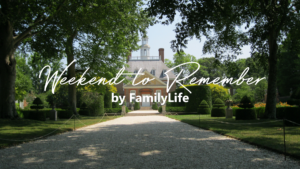 No marriage is static. Each day, each choice — you're either moving closer together, toward oneness … or coasting farther apart.
At the intersection of a faith-based marriage conference and romantic retreat from everyday life, Weekend to Remember helps couples do just that — choose oneness. Whether you're sending up an SOS for marital rescue or looking to foster an already flourishing connection, Weekend to Remember is your best next step toward being, and staying, one.
11/17/2023 – 11/19/2023
Colonial Williamsburg Lodge
Williamsburg, Virginia
Promo Code: CrossroadsCC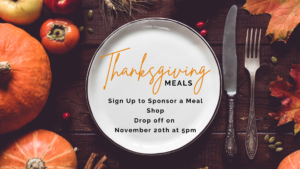 Believe it or not, Thanksgiving is right around the corner! Most of us have fond memories of friends, family and feasting but for some this time of year is not a time of fond memories because of the lack of food. Crossroads wants to change that reality for 50 families in our community this Thanksgiving season. If you want to help out by sponsoring one of these families, click the link below. There is a complete shopping list there and the total cost is approximately $70 per family. Once you have completed your shopping, you come to Crossroads at 5pm on November 20 with all your meal items and we will pray for those families and then you will deliver them to your family at their home or at a designated distribution point. At Crossroads we are for our neighbors – help us realize that vision by making this Thanksgiving special for these families in our community