Our service is 50 minutes long and we meet Sundays at 9:30am and 11:00am.

When you arrive, head to Guest Services, someone from our team will welcome & direct you where to go.

ASL interpretation will be offered during the 11:00am service

You can wear whatever is comfortable- we have people who dress really nice & people who dress super casual.

We have programs for kids of all ages, and incredible volunteers who get to know your child and build relationships with them.
Crossroads exists to create an environment for people to "come as they are" and connect with God. It remains our vision for each person to "start where they are and connect with God."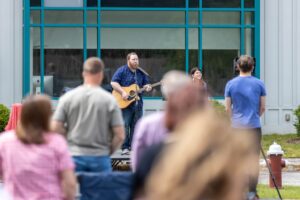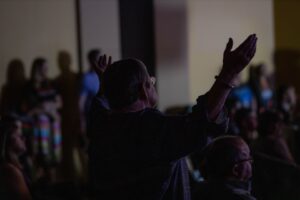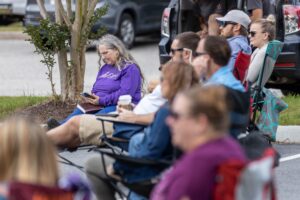 In 1990, a group of innovators set out to create a different type of church for the 757 area of Virginia – a church that wasn't just for church people. They wanted to create an environment where people could "come as they are" and connect with God. An environment where people would be excited to invite their friends. A place where people could grow and take next steps in their relationship with God.
Our vision is to start where people are and see them connect with God.
Over the years, we've seen God do more than we could have ever dreamed or imagined with that vision! We've seen literally hundreds of people experience life change. We've seen our connect groups become a place of real-life community. We've seen God lead us to be for families in new and fresh ways in our children and student ministries. We've seen God bring in and send out hundreds of military personnel and families who shared our vision while in the 757 and are now all over the world. We've seen God use our church to plant other churches in the 757. We've seen teams sent to share the Good News message of Jesus internationally and especially in Nicaragua. And we've seen God challenge our church to love our "actual" neighbors as ourselves in whatever neighborhood He's placed us.
Your family is a big deal to us, so we've created safe and fun environments for every age!
We use Orange curriculum as a fun way to fuel faith in the next generation!
Orange helps children embrace a God who is bigger than their imagination, then adds discovery so they can understand how to grow in their relationship with God.
Orange fuels passion by giving students opportunities to be the church and to make a difference influencing their generation.
Whether you've been in church for a long time, or not at all, we want to welcome you to come check us out. We'd love to have you!